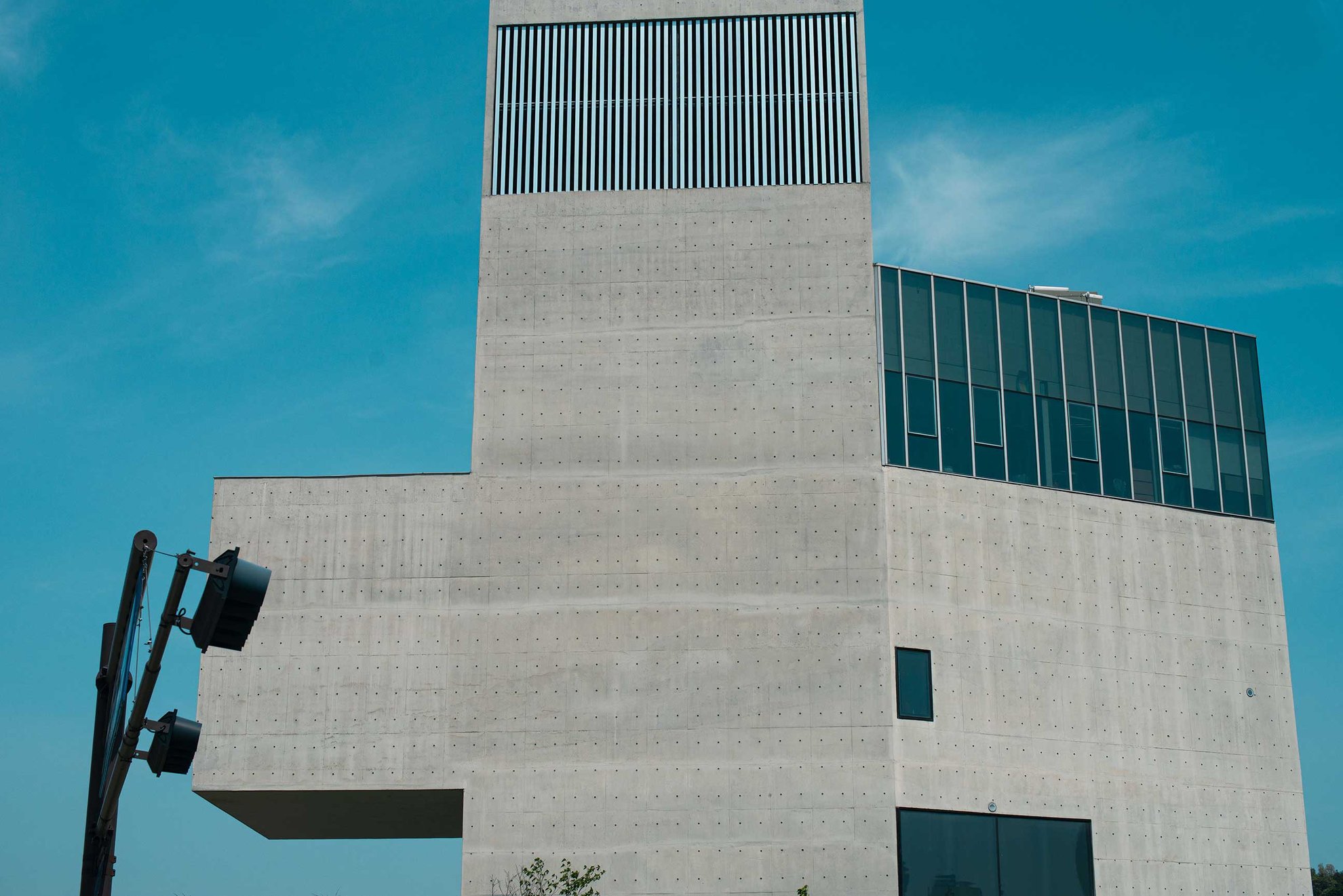 The Nameless Architecture RW Church in Seoul
We were visiting South Korea on a two week holiday and I knew that somehow I had to shoehorn a trip to the 'Nameless Church' onto the agenda. I'd seen the stunning images on the Fubiz blog post of the concrete church near Seoul by Nameless Architecture and couldn't let an opportunity like that pass by. Amazingly I managed to convince @clogette that we should try and find the place…
The Fubiz post is particularly vague when it comes to the actual location of the church –  a 'town near Seoul' is all the information that we had to go on initially, but further digging led us to believe that the church was probably located in Byeollae – a new town/suburb to the north east of Seoul.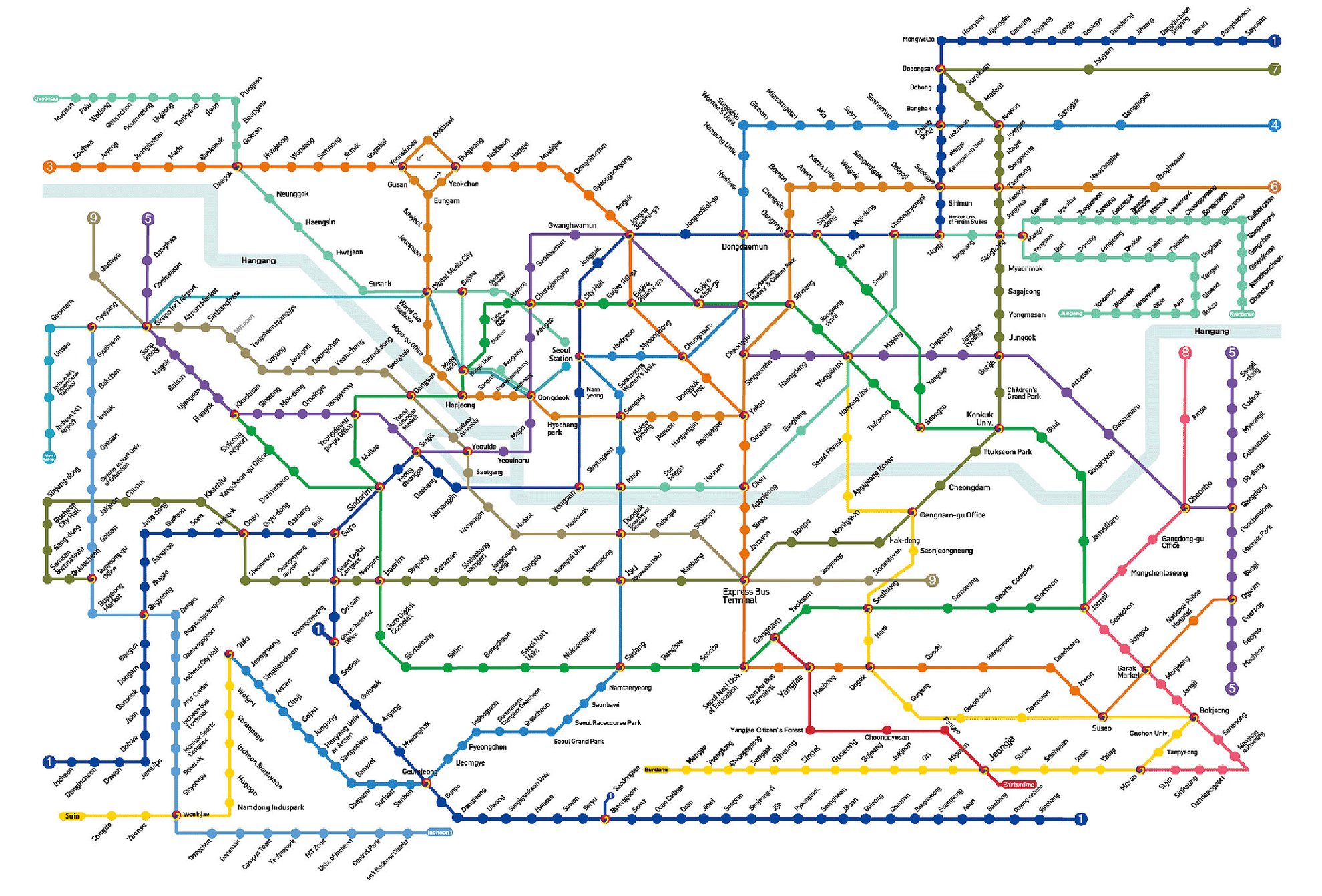 The Seoul Subway Map
The Seoul subway is actually pretty easy to navigate – with signs and announcements in English (well American) and a relatively non-threatening Henry Beck style map. So we arrived at Byeollae station within an hour or so of leaving Itaewon – the district in Seoul where we were based.
However upon exiting the station, it wasn't particularly clear which direction we should be going in, either to get find the church or just the centre of Byeollae itself. It certainly was a new town, in fact parts of it were still in the process of being built…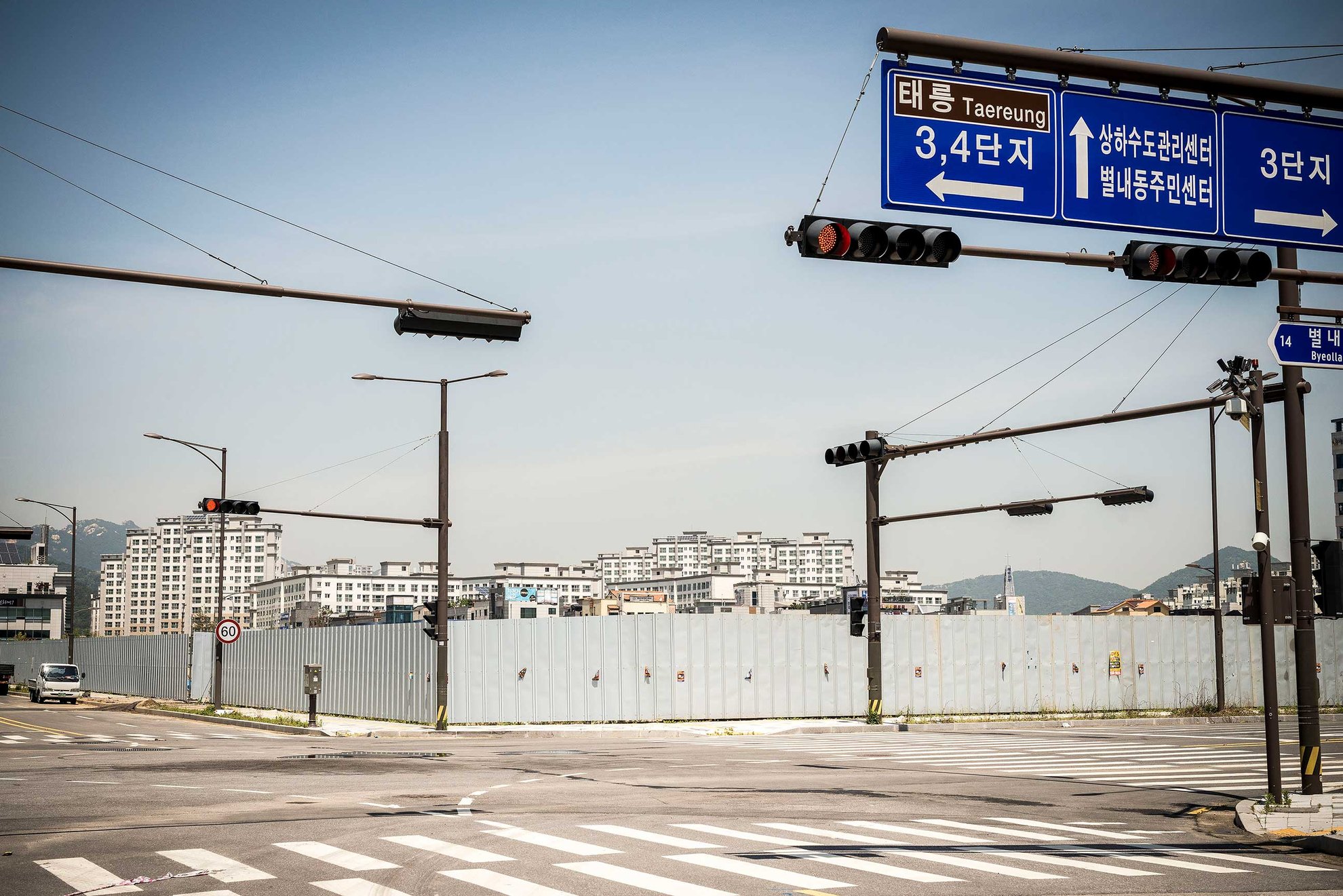 Byeollae, Seoul, South Korea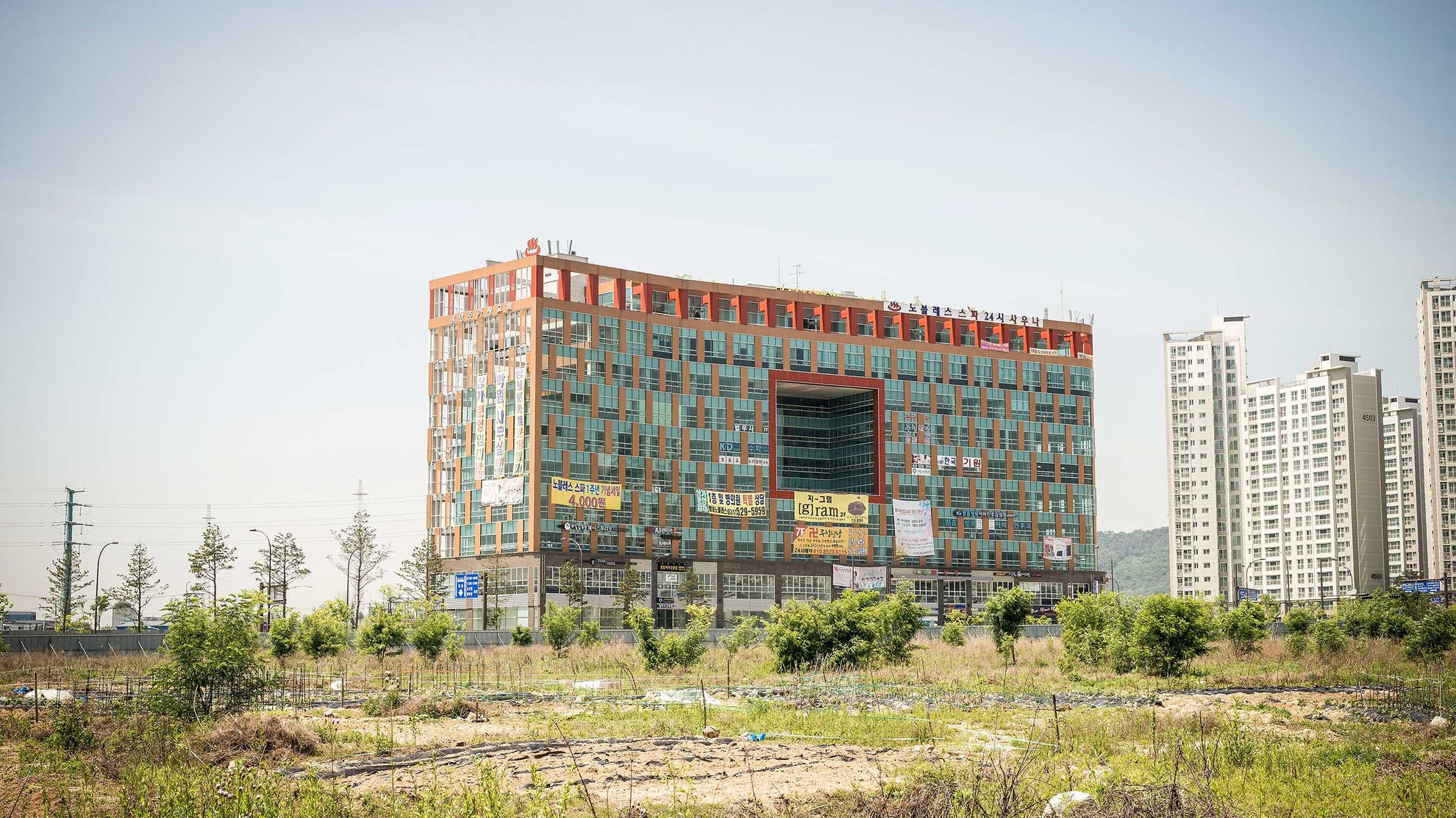 Byeollae Construction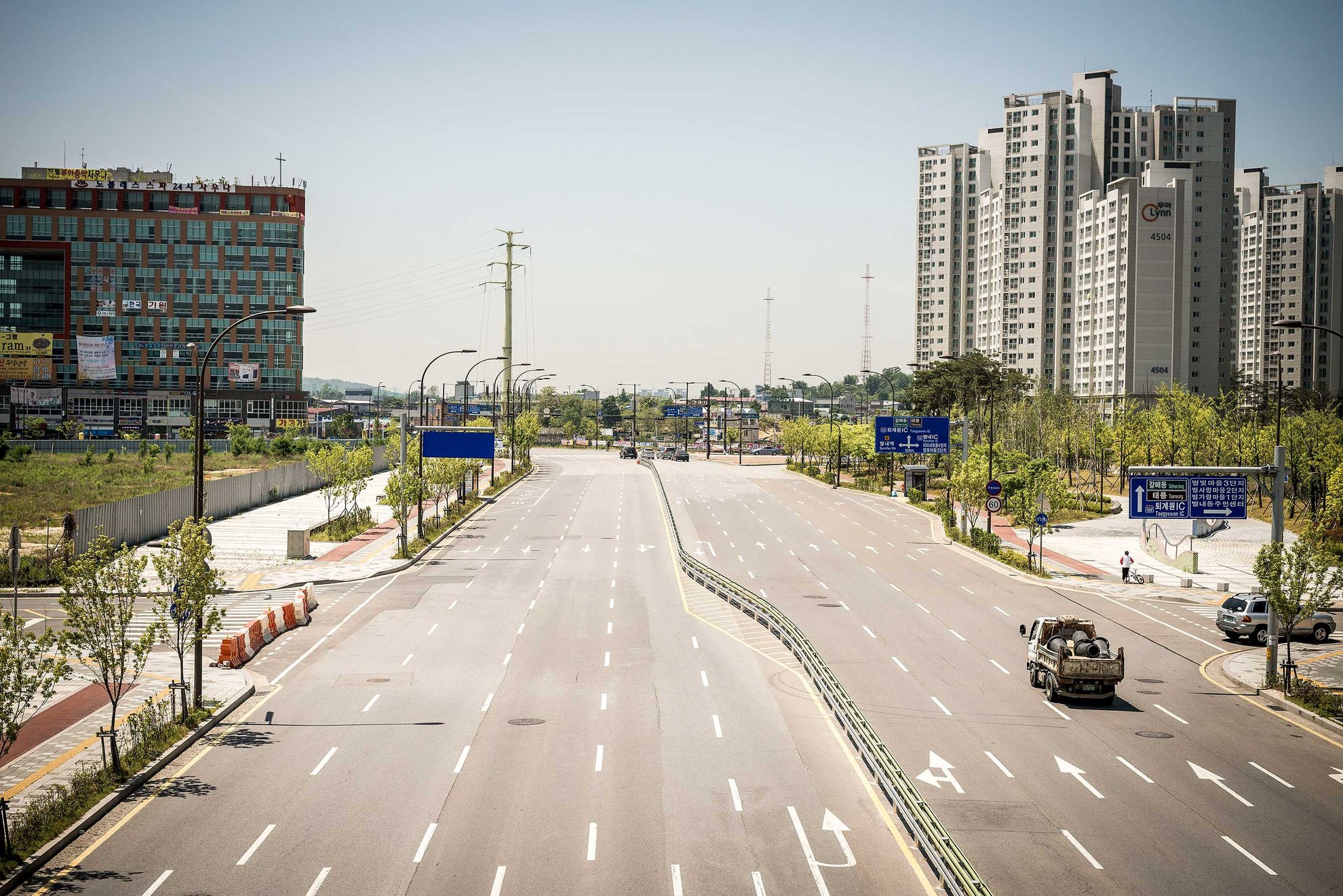 Empty Roads in Byeollae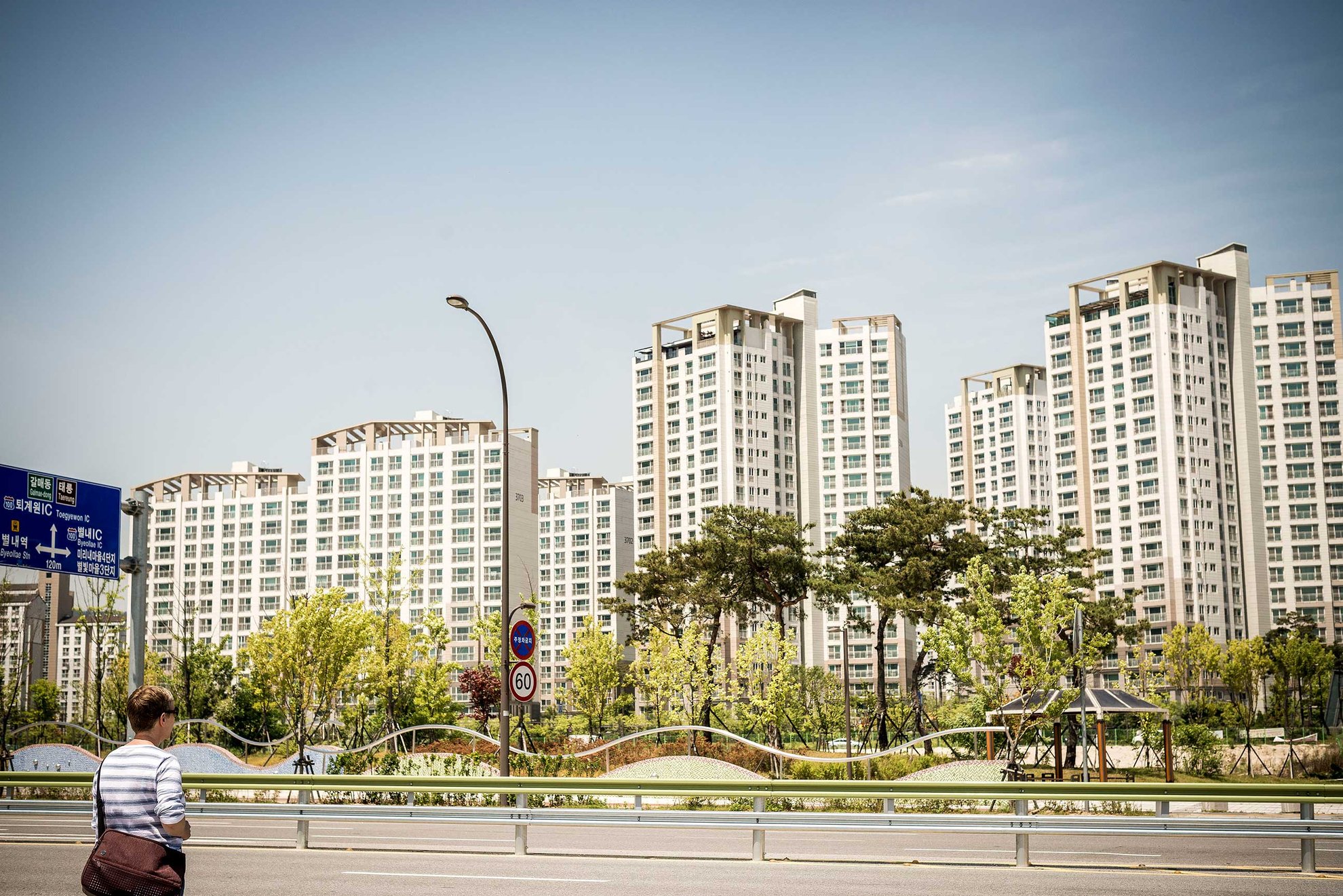 Byeollae Tower blocks
After a while of wandering around in the heat, we found the centre and headed into a coffee shop for an iced americano and to ask for some help in locating the building. If you haven't already take a look at the images on Fubiz – it is a pretty distinctive building. And despite Byeolle being  bigger than either of us expected my expectations were that a unique brutalist church such as this would be fairly easy to find.
Our short experience of South Korea was that people were incredibly friendly and keen to help, and this was the case in Byeolle. The owners of the coffee shop looked at the pictures of the church on my phone but unfortunately without a flicker of recognition. Other staff and customers got involved but no one seemed to be able to place the concrete masterpiece that was supposedly in their neighbourhood.
We walked outside and somehow a couple that had just parked their car got involved in the (mainly gesture-based) conversation. The guy took my phone and walked a few doors down to the estate agent – brilliant I thought, they must know where this building is. After a while a consensus built that this church maybe located on the outskirts of Byeolle but it could be accessed by bus, but to be honest it was all looking a bit doubtful. It was seeming like we were on a wild concrete goose chase. Incredibly though at this point the couple who had just arrived offered to drive us to where everyone though the church was. We gratefully accepted and hopped into their car.
Ten or fifteen minutes later with the aid of sat nav we arrived at the church. Only it wasn't the church. We all got out of the car and looked around. We went inside and our new friends asked the folk inside the church if they recognised the Fubiz pics. And no, they didn't either. Back outside and I climbed the steps to take a look around, it was at that point that I spotted the building. It looked similar to the Nameless Church, but this one had a rather crude wooden spire on the top. The original design of the church was such that the whole building was built in the shape of a cross – albeit in a minimalist, brutalist style – and therefore no spire or addition crucifix was required. However it was looking like we might have finally found the Nameless Church.
As we entered the car park (our new friends had been kind enough to drive us) an SUV pulled-in behind us. Three men got out and after a brief conversation in Korean we were introduced to Pastor Jang. Chang Man and his two assistants. Pastor Jang was delighted that we had chosen to visit an invited us in for a guided tour and coffee. We said goodbye to the lovely couple that had taken the time to drive us around the suburbs and headed inside with the Pastor and his assistants.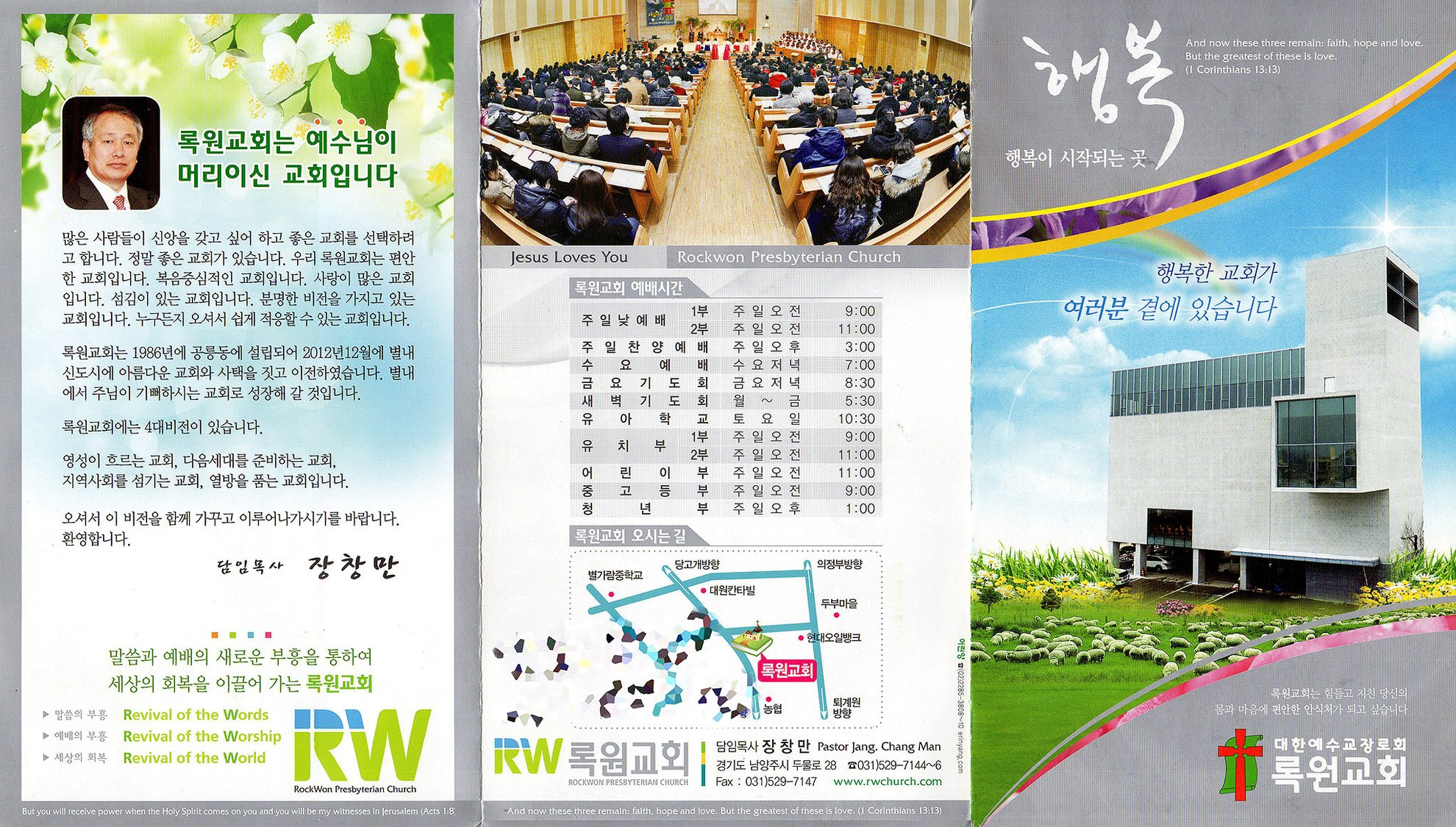 The RW Church leaflet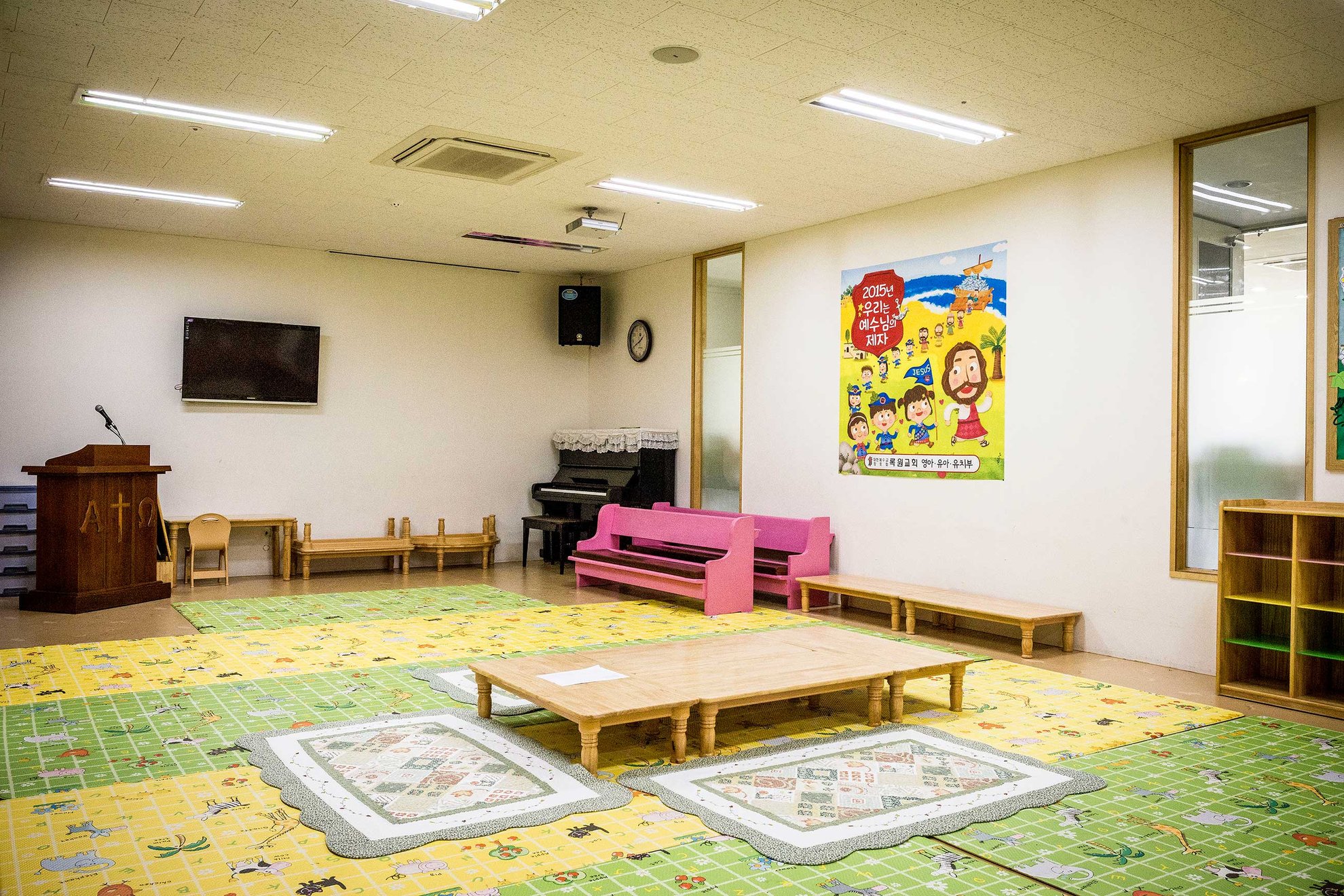 RW Church Interior, Seoul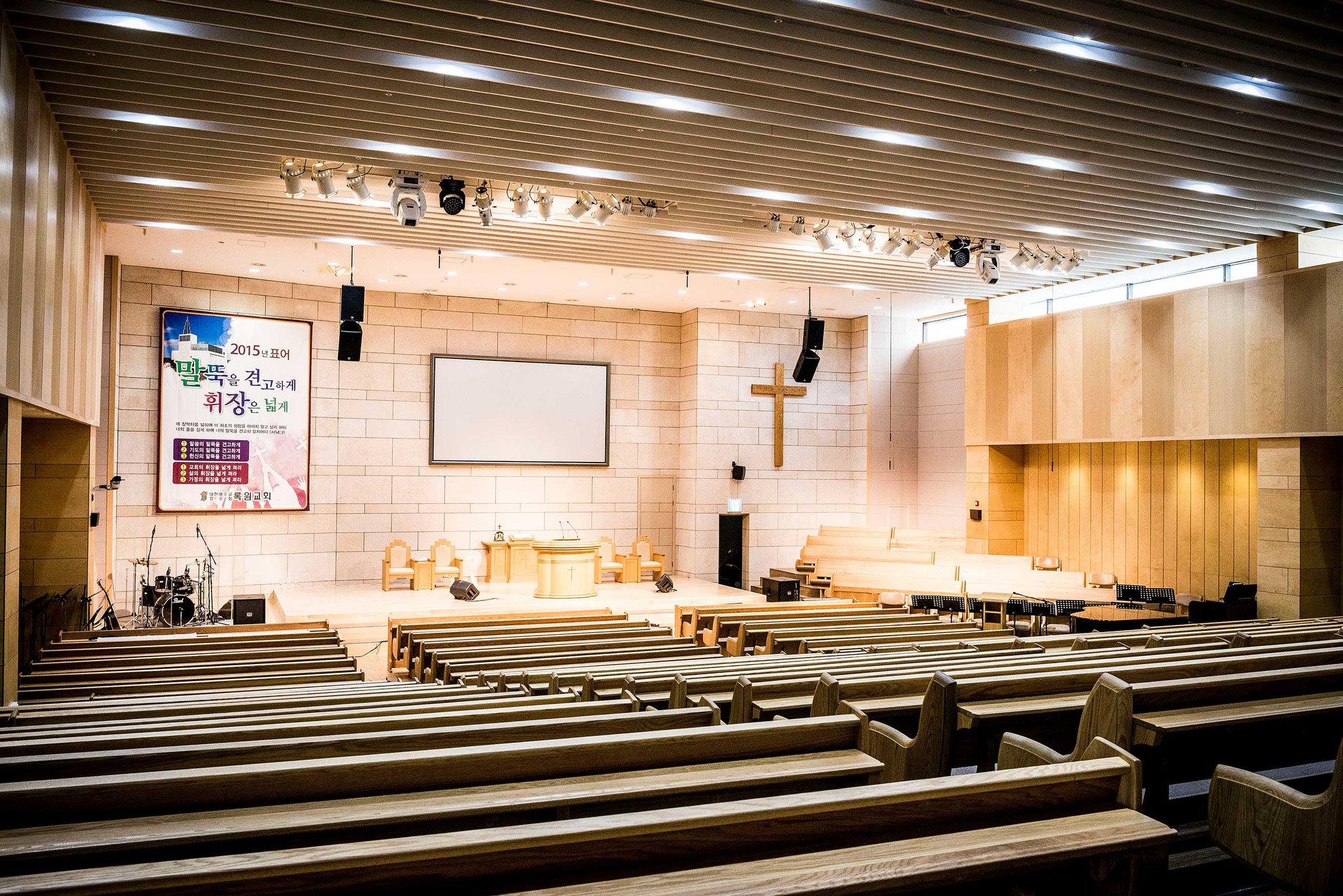 RW Church Interior, Seoul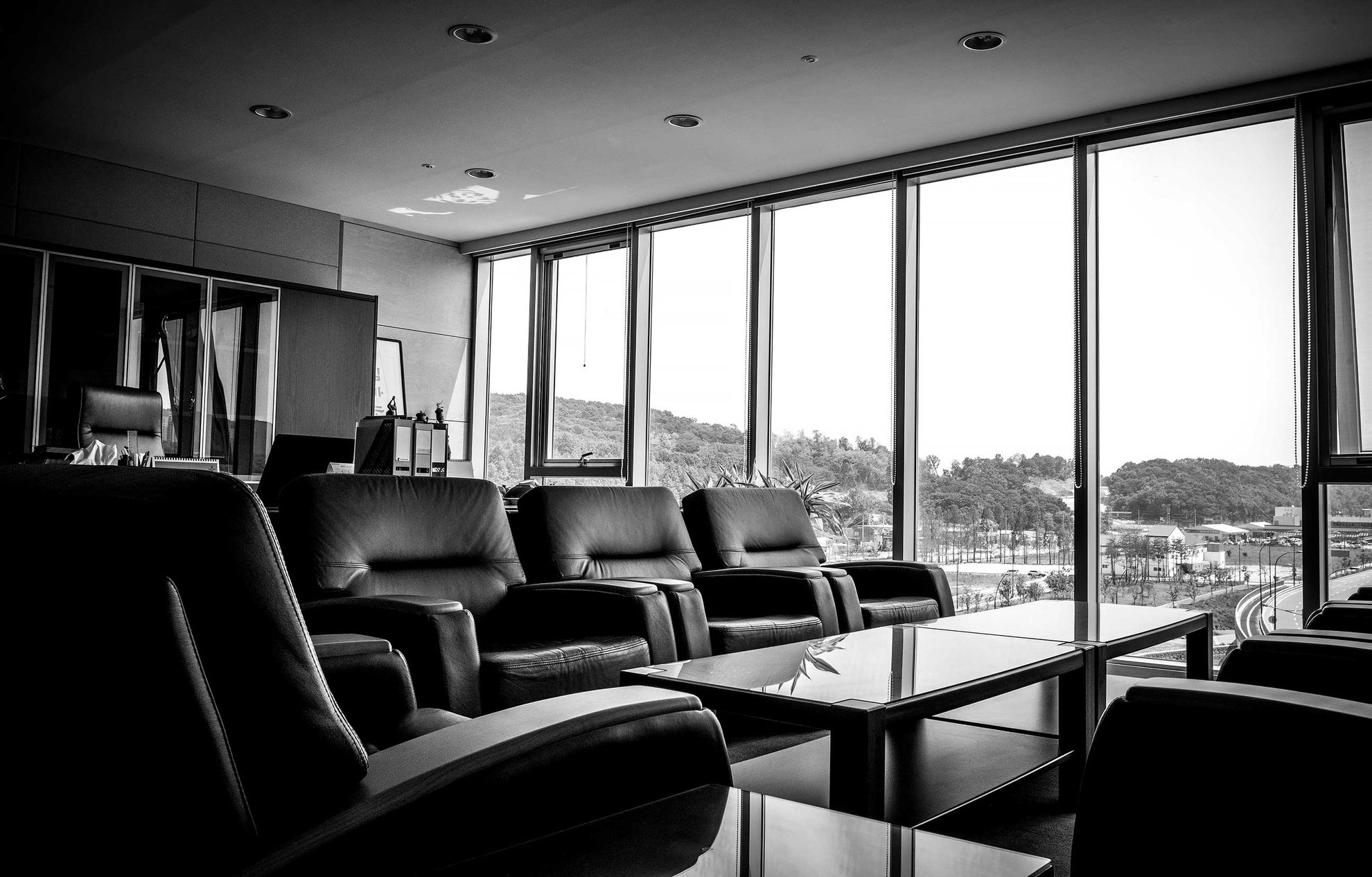 RW Church Interior, Seoul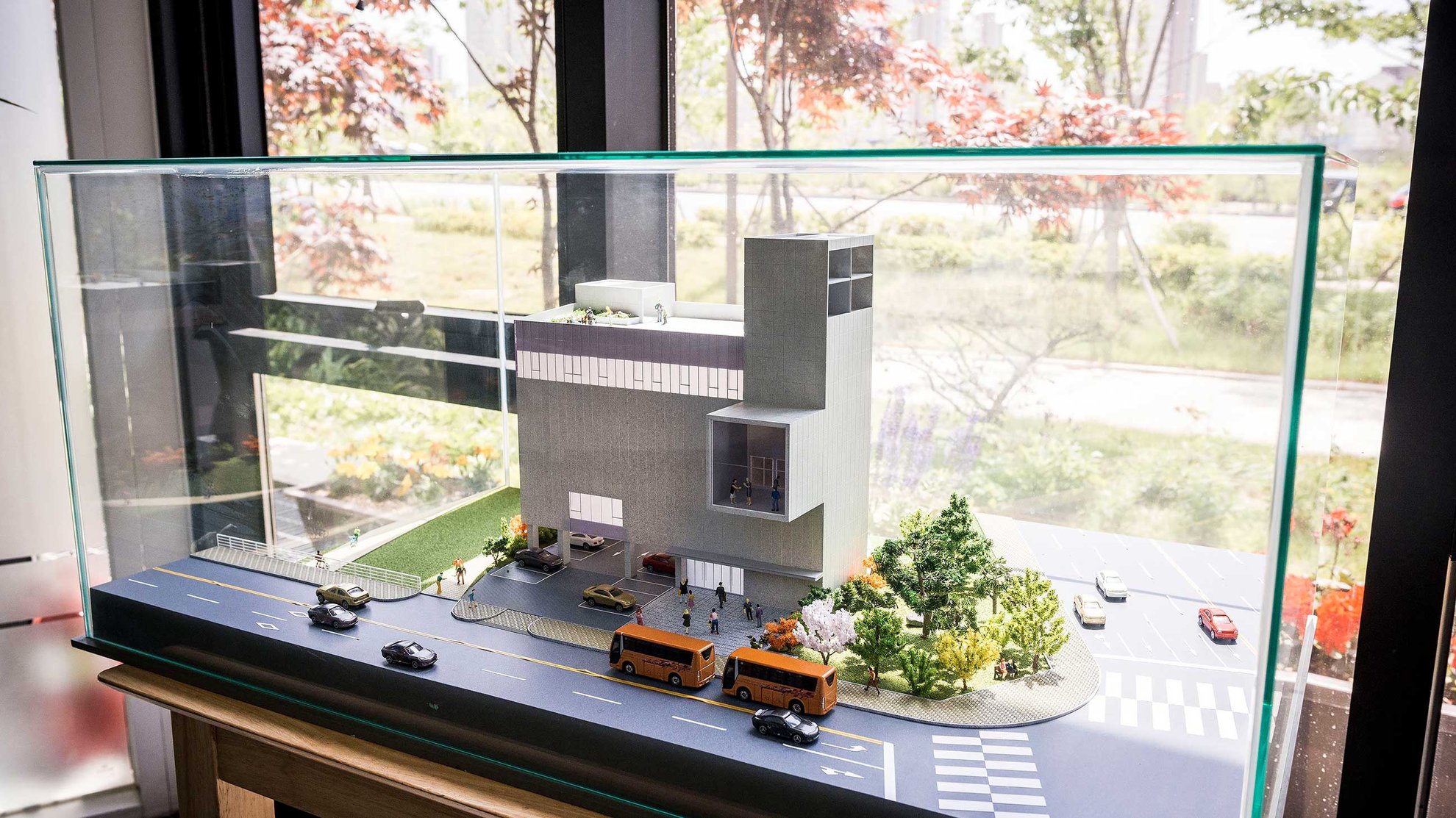 Architects model of the RW Church, Seoul
After the interior tour we said farewell to our hosts and headed outside. It was clear that the original brutalist style and naked concrete finish that Nameless Architecture designed were not quite in keeping with the style and decor that RW Church actually wanted. Inside they had added wood paneling which concealed the concrete and outside they had added the aforementioned spire. Oh well, I'm still very glad we made the trip out to Byeollae and explored another side of Seoul for a day.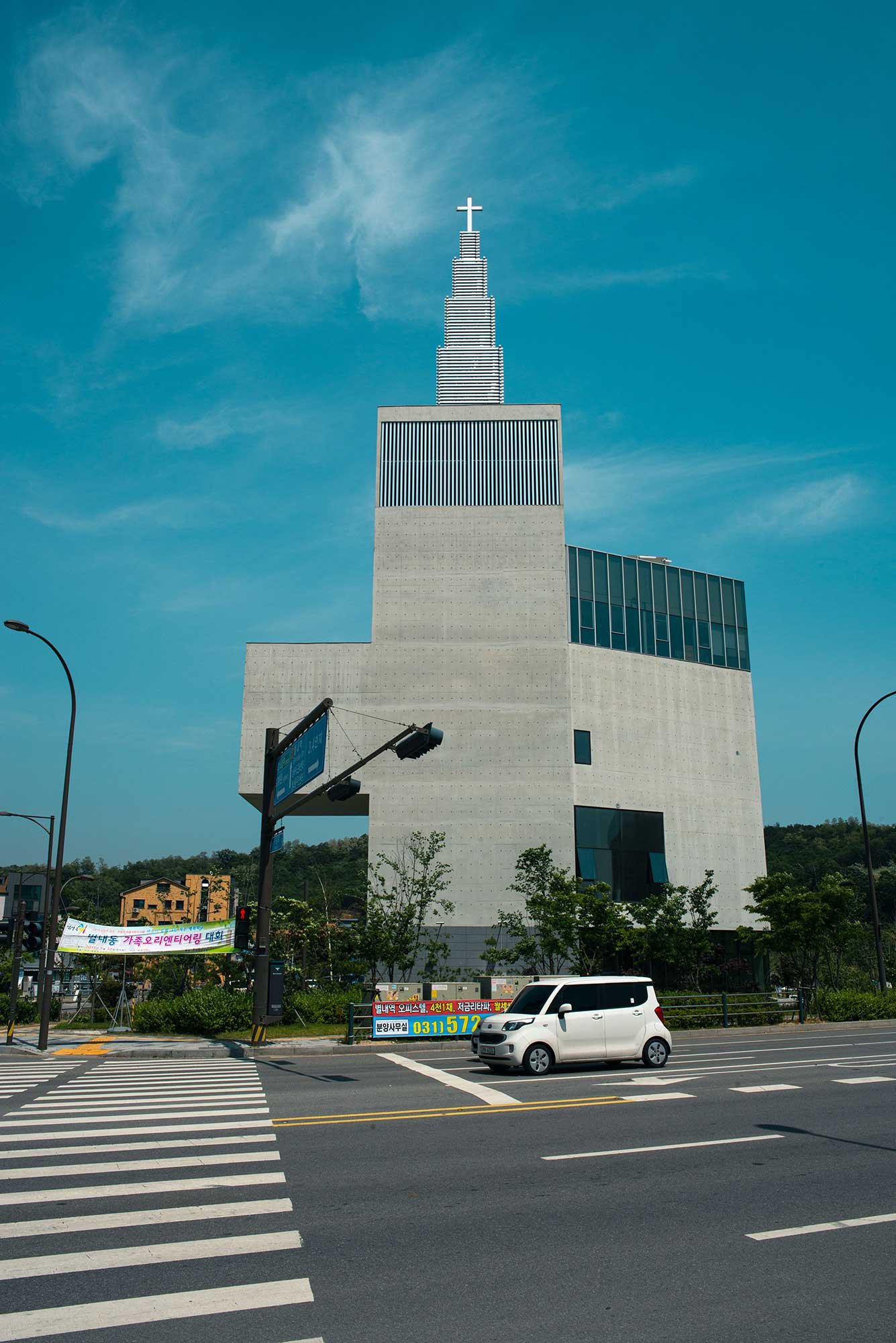 The Nameless Architecture RW Church in Seoul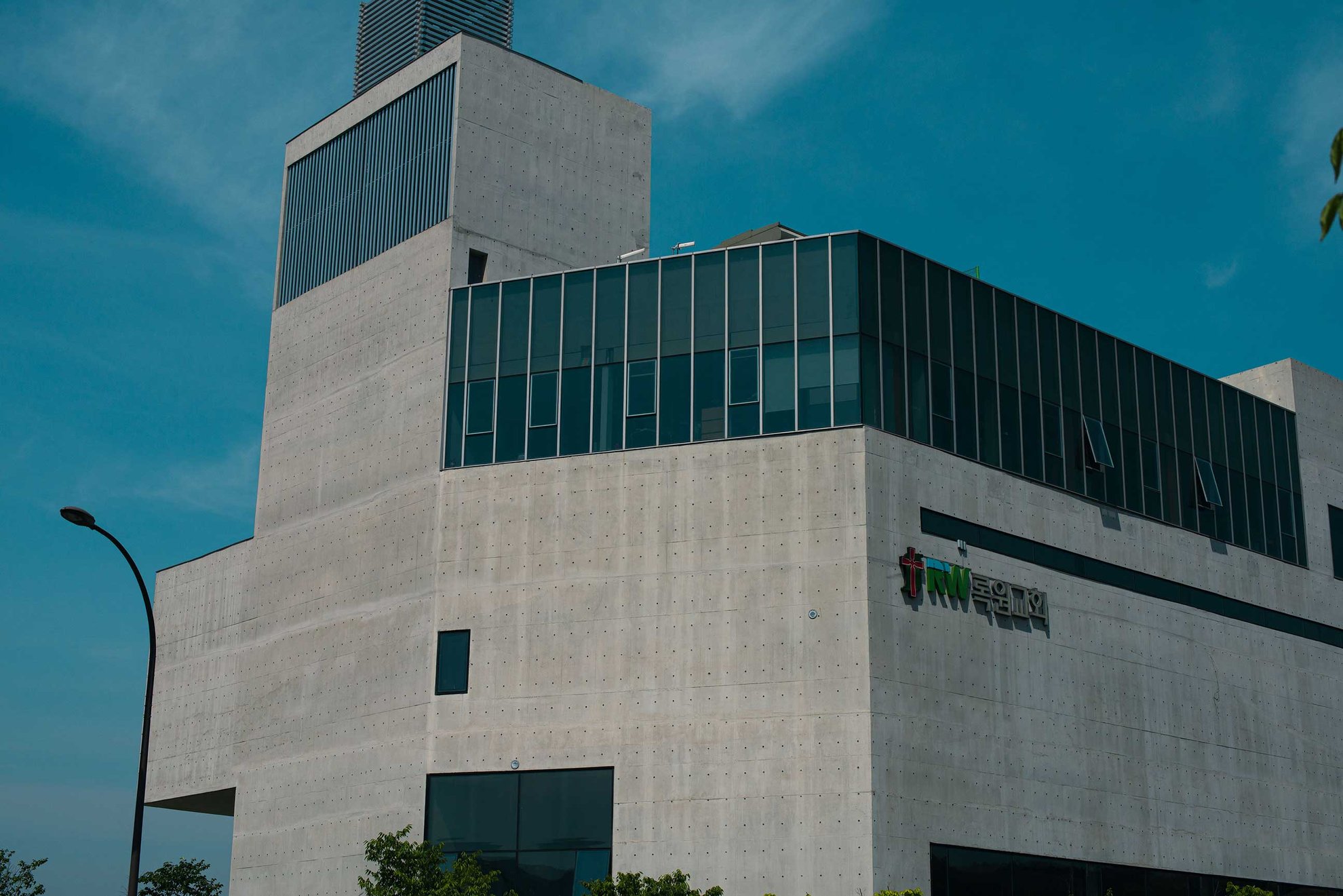 The Nameless Architecture RW Church in Seoul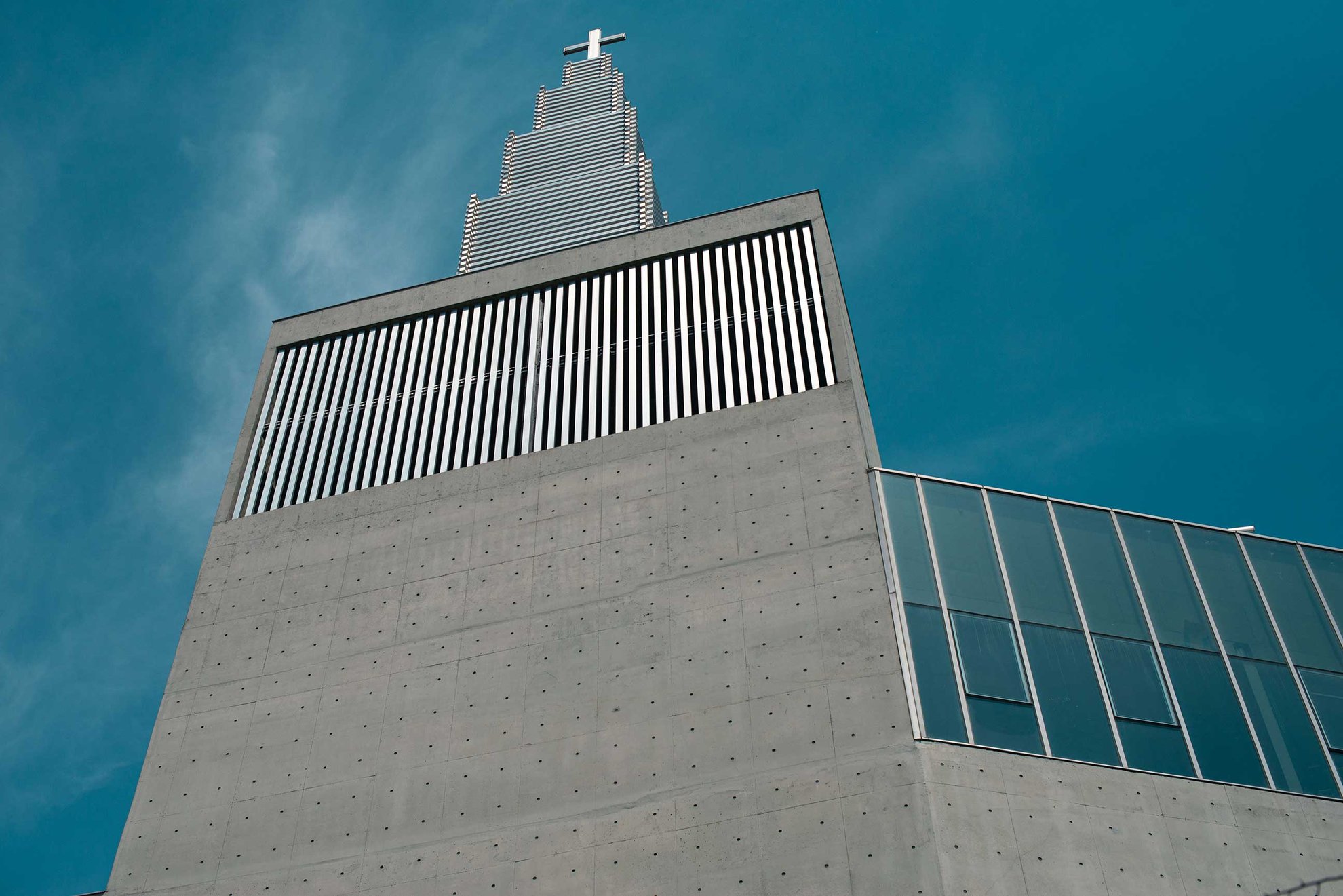 The Nameless Architecture RW Church in Seoul